Althea x Titi Kamal
Stay Fresh Body Sparkling Mist
RM 35 | 100ml
If you'd like to purchase and it's your first time, you can use my link to signup and gain a 20% discount for all the items of your first purchase!
"A delightful concoction of floral and fruity notes including sweet orange, fresh peach, and elegant rose." Althea's Stay Fresh Body Sparkling Mist is their first celebrity collaboration. Althea worked very closely with her to produce this brand new product because of her enthusiasm for beauty trends across Southeast Asia and her passion for understanding what consumers love.
Althea said: "This mist is a lightweight body fragrance with Titi Kamal's favourite fruity and floral scents: Orange, Peach, and Rose. The combination of these beautiful scents will give you that fresh feeling you need to seize the day. The bottle is perfectly sized to fit in your handbag or travel carry-on so you'll always be ready to impress."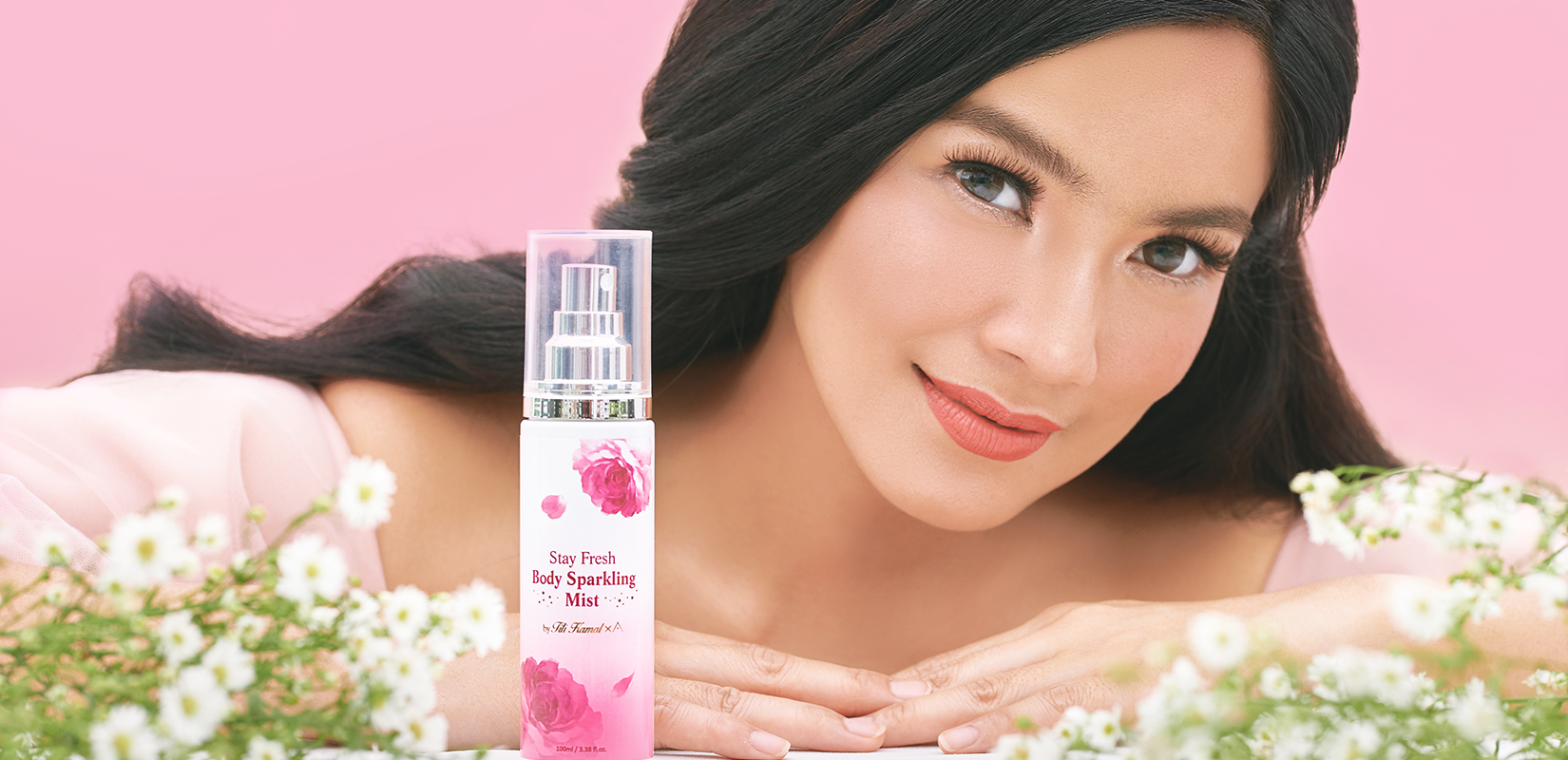 Who is Titi Kamal?
Titi Kamal
 is an Indonesian Actress of soap operas and films, a Model and a Singer. She was a first place winner in Cover Girl Aneka 1997, Energy Bio Ambassador 2006, Batik Ambassador 2008 and Ambassador of Sanex 2008. Her long black hair is her trademark and her trends in fashion, as well as beauty, had gone across Asia.
Her first soap opera was in the year of 1996 (Bolak Bali Sip) and she is currently still active within the soap opera industry. Her experience of acting in movies started from the year 2000. Her contribution in the movie "Mendadak Dangdut" had landed her in nomination for Best Female Actor (Indonesian Film Festival & Festival Film Jakarta 2006). She had also received multiple awards such as Most Favourite Actress (MTV Indonesia Movie Awards 2006), and three awards from 2007 Indonesian Movie Awards (Best couple, Favourite couple and Best Singing Actress). She is currently still active in the movie industry.
While she's doing great with her career, Titi is also a wife and a mom. How amazing! She also has a Youtube channel (Titi Dan Tian) and an Instagram account (@titi_kamal).
Feature:
Fresh Daily Body Mist that fits any style from romantic to casual
A non-sticky body mist that dubs as an elegant perfume
Floral Fruity Fragrance that is gentle and long-lasting
Lightweight and Portable packaging that fits easily in bags or purses
Ingredient List:
Alcohol, Water, Glycerin, Fragrance, Pentylene Glycol, PEG-40 Hydrogenated Castor Oil, Rosa Damascena (Damask Rose) Flower Water, Butylene Glycol, 1,2-Hexanediol, Sambucus Nigra (Elder) Flower Extract, Citrus Aurantium Dulcis (Orange) Flower Extract, Magnolia Liliflora Flower Extract, Plumeria Rubra (Frangipani) Flower Extract, Lilium Tigrinum (Tiger Lily) Extract, Ethylhexylglycerin
How to Use:
Spray lightly on the body after a shower and/or before going out. Take it with you and re-apply whenever you prefer.
Verdict
This year (2018) is the year of exploring scent and aroma for me. I've been going around and sniffing fragrance products and looked as if I was trying to eat them. Well, what I'm trying to say is, I've developed a standard for fragrance products that help me to decide which ones smell awful and which ones don't, both in my own or other people's perspectives.
The idea of this product, as well as the choice of ambassador/collaborator, is to give the user an enhancement in femininity through scents. This product has a very feminine packaging and it contains the smell of rose, sweet orange and peach. All of these but without the overbearingly strong and suffocating smell. A lot of products on the market are terribly suffocating with the strong scents and it tends to make passersby to hold their breath, which really isn't the right kind of reaction that we want people to have.
The scent itself is light, smooth and elegant. It gives a gentle rosy aroma but it also has hints of fruitiness. It consists of Damask Rose Extract, Elder Flower Extract, Magnolia Liliflora Extract, Frangipani Extract, Tiger Lily Extract with Sweet Orange Oil.
The spray particles are surprisingly fine. It won't give you an unexpected ambush of heavy-drop-attack, as if you aimed a tap spraying nozzle at your face. This product sprays gently onto your skin and covers quite a large area.
The duration of the spray doesn't last as long as a perfume would but that's actually better because it means it doesn't have a lot of chemicals required to preserve the scent on the skin after long hours. Not to mention that this product doesn't sting my skin like most perfumes would. I haven't keep track of the duration but it should last at least 2 hours after spraying + going out shopping.
On the other hand, my boyfriend had a hard time differentiate the scent with my other perfumes. However, if you are good at differentiating scent like me, you'd notice that this actually smells lighter and more natural than most perfume. As mentioned above, it doesn't suffocate your nose with an overbearing smell. So if you are smell-sensitive, then you will find this product easier to accept.
The weight and packaging of this product ease my mind for when I needed to carry it around. Unlike perfume bottles which are mostly glass, this product uses plastic packaging. Also, because it is plastic, the weight is immediately a whole lot lighter than a glass perfume bottle would weight. This makes travelling a lot easier because I don't have to be very careful with unwanted misplacement or spillage due to broken bottles. My bag also wouldn't have extra weight in it.
Overall, I am pretty happy with this product but will I repurchase? Perhaps not. It's because I believe that it will last for a while and when it's all used up, I still have a substitute (perfumes) available lying in my room. Honestly speaking, I can never finish my perfumes. However, I do recommend this product to people who are looking for an acceptable rosey yet fruity scent, especially for those who are pretty sensitive to fragrances.
That's all for my blog post!
Hope you find this blog post helpful!
Check out my other posts too!
They may be helpful 😀
#TitixAltheaKorea #AltheaAngels #AltheaKorea