We all know that Althea and Hermo are like our one-stop online Korea Beauty store but what differentiates Althea from Hermo the most is (that, not only that Althea doesn't charge you that 6% GST or that SST, which means they are a lot cheaper than Hermo, but also) that they have their very own Beauty product line!
Althea Bare Essentials.
Your Skin's Simply Perfect Savior.
Perfect for Minimalists. Hypoallergenic.
The idea of this product line is to promote minimalism while packing all the essentials of skin care products into just 3 items, allowing you to save space while enjoying all the benefits. They have a very sleek and simple packaging that suits the profile of all age and social status while displaying elegance and timeless stylishness. These products are designed to suit every skin types in the world, regardless of weather, season, or skin colour.
I was unsure if these products could help me with my eczema-prone skin since I always encounter irritation and my face will instantly getting warmer and warmer. I had trouble with other products, hence I had my own doubts about new products.
However, after trying and using these three items as my sole skin care products for almost a month, I can finally write this review with my very own words.
The first step is the cleansing cream.
Althea says: "It is a rich and foaming cleanser available for all skin types, packed with with soothing Ice Plant and detoxifying Lemon Myrtle extracts, that removes impurities improving blood circulation and reduces bloating and swelling for that defined, enviably slim V-shaped look, densely containing micro capsules that burst upon contact with water to gently cleanse, exfoliate dead skin cells, and detoxify skin gently, leaving the skin feeling cool and refreshed too."
I personally love this cleansing foam a lot because it has been effectively calming down my irritating skin without causing a stinging sensation when my eczema was triggered. At the same time, the foam was not too 'cleansing' & 'bubbly' but rather 'creamy' & 'conditioning.'
I'm quite a soaper, so let me explain those terms:
Cleansing is necessary for soap but higher levels of cleansing can be super drying because it will strip everything away from your skin, this includes (not only dirt but also) necessary sebum that helps to keep your skin moisturized.
Bubbly soaps can also cause dryness as bubbles help to strip residue away easier. Hence, the bubblier the dish soap, the cleaner your plate. But this is not a good thing for skin cleansers.
Creamy soaps are better than bubbly because it doesn't strip as much sebum from your skin. However, it may be a little bit difficult to wash off the soap if it is too creamy.
Conditioning is necessary to keep your skin moisturized. The higher the better. But never too high.
There are little beads inside the cleanser which melts after rubbing it between your hands. I believe that the beads helps to create more foam, thus creamier texture. While I was really enjoying the texture of the cleanser, I also enjoyed the minty, refreshing feeling from the soap. It helped me to feel awake after a heavy sleep. The minty feeling was just right. Never stinging, never irritating. (Neutrogena's foaming cleansers gave me the stinging and tightening sensation :< )
The cleanser didn't take a lot of effort to be washed off as well. After washing it off, the minty feeling continues even after the third step, which had inevitably surprised me in the beginning. Truly a unique experience. I guess this is why they called it 'Contour' cleanser because it does reduce puffiness or bloated feeling of my face.
By the way, you don't need a lot of this to wash your entire face. Just the size of a baby grape would do just fine. I think one tube of this can last at least 6-8 months. (It's quite similar to Hada Labo's foaming cleansers except Althea's is more gentle and requires lesser amount!)
Step 2
Althea says: "Both a hydrating yet ever so slightly balm-like toner and a primer in one, the Primer Water contains patented dewdrop technology (Macro Fluidic Dispersion technology) that gently fills the gaps between pores and allows hydration to penetrate deep within the layers of the skin to plump them up, prepping the skin for the very next step. Made with Snow Lotus extracts, this skincare heavy hitter has an incredibly smooth and silky texture that enhances the skin's natural glow, leaving you with the perfect canvas. Suitable for all skin types."
I personally find this product very interesting because it is neither watery nor gel-like consistency. It actually felt like a semi-gel liquid and I personally like to apply this without the use of cotton pads. I would just squeeze out little amount onto my forehead and then spread it across my entire face.
I said "squeeze" because the bottle was not made of glass but plastic. This is very convenient to me because I didn't need to stress out for not having enough product out of the bottle. I hate shaking products out of a glass bottle anyway because it might slip off my hand and fall to the ground. Messy aftermath, as you can imagine already. So, with this one here, I won't need to feel annoyed at the beginning of the day already.
It did not take long to absorb into my face. I pretty much just needed 10 seconds or below to let it sink into my skin. Unlike other toner, this doesn't feel heavy or sticky after being absorbed. It is almost as if I had never applied it at all! Such a wonderful feeling! I did notice that my pores were smaller after using this product. Though it is not a very significant result but I'm confident that my pores can be smaller with the help of other products along the skin care routine.
The minty feeling from the previous step did not stop from here! It had continued and I was feeling fresher than every! It was as if I had enough sleep when I actually don't get enough sleep. Not many products can create such amazing feeling after using them, ya know! (Unlike most toners.. Muji's gave me the sticky feeling too, unfortunately.) Also! It can last about 6-8 months!
SHOP TONER
Step 3 / Final Step
 50g RM50.00
Last step: Moisturizing.
Althea says: "This non-oily, quick-absorbing formula harnesses the power of Trehalose, an ingredient found in the cactus plant that prevents its moisture loss, to provide the skin with 24-hour revitalization and hydration. This ultra-nourishing wonder cream is also rich in antioxidants derived from Camellia Sinensis (green tea) seed oil, and helps to promote collagen regeneration using Baobab Tree extracts. Upon application, your skin is left looking great and feeling bouncy to the touch. Suitable for all skin types."
This product size may seem small but just like the cleanser, you only needed a very little amount for your entire face! Just the size of a baby grape is efficiently enough to moisturize your skin for the entire day, which is amazing. The texture of this cream is pretty gel-like, which promotes easier spreading and quicker absorption.
I've always had issue with moisturizers, especially cream, because they tend to make my skin feel sticky and heavy, leaving my skin unable to breath (like Palmer's). Some would also caused stinging due to high amount of acid (like Mary Kay). But this moisturizer did nothing like that whilst providing moisture that my skin had desperately needed. You have no idea how much joy I had felt when I discovered that I can finally use a moisturizer with ease and without stress. Not only that, this product is pretty affordable too, despite its size. I believe that it could last me at least 3-5 months since I don't need a lot of it for my face.
The minty feeling remained until few moments after applying the moisturizer. The after-applying feeling is still pleasant because my skin did not feel like there is any sticky residue left behind. I get those feelings after using certain products, which tends to irritate my skin even more because it felt uncomfortably sticky. However, this product did not give me that kind of problem! (Not even Clinelle's Sleeping Mask can do this good!)
__________________________________
My Verdict
I think I've finally found a skin care series that really suits me with what I've needed it to be: effective, efficient, affordable and minimalism. I usually prefer lesser skin care products, which basically means these three are just what I needed, except they are way more than just what they are (e.g.: the toner works as a primer too!) Extensive skin care routines might suit people who are more hardworking when it comes to skin care, but I find them redundant for myself. Since my skin takes a while to absorb products, using lots of skin care products in one-go can create an unnecessary layer which remains on my skin rather than being absorbed, thus costing me more than it needed to be.
I think one set of this could easily last me from 4 – 6 months. This means that I can ease my mind from re-stocking, unlike other products that only lasted me 2 – 4 months. (Boooooo!) I am also feeling relief because these products are completely suitable for my eczema prone skin without any irritation at all! All while providing my thirsty skin with moisturizing benefits, allowing me to have restful sleep during the night (since it tends to irritate more often around 3am/4am). You have no idea how insanely in love I am towards these products. I don't even need to spend over RM120 for the entire set (which unlike other brands, buying moisturizer alone can already cost over RM60, while buying a set of cleanser+toner+moisturizer could easily cost over RM200).  The smell of the products are within the range of floral but unlike the typical floral smell such as lavender or rose, which really creates an (highly positive) impression.
Any skeptics that I previously had towards this products were completely gone. They are absolutely safe to use and deserve way more love than they are right now. Don't trust me? Well, try to prove me wrong by trying them. I'd wager that you'll fall in love with them too 😉
__________________________________
Free mirror!
I was given a free mirror that is absolutely unlike those cheap-arse blurry mirrors. This one is so clear that I started to think that my vision outside the mirror is blurry. You see everything clear and sharp!
As of now, you can still grab one from Althea when you purchase this series. However, it may also depend on its availability too!
Don't forget to grab some of the samples too when you see that it is available! Give it a try and maybe you will fall in love with these products too! If you don't see any samples, you can jump straight into purchasing the full-sized products too because there is a 10% discount at the moment if you had purchased the entire set.
Original price: RM116
Discounted price: RM 104.4 + a Free Mirror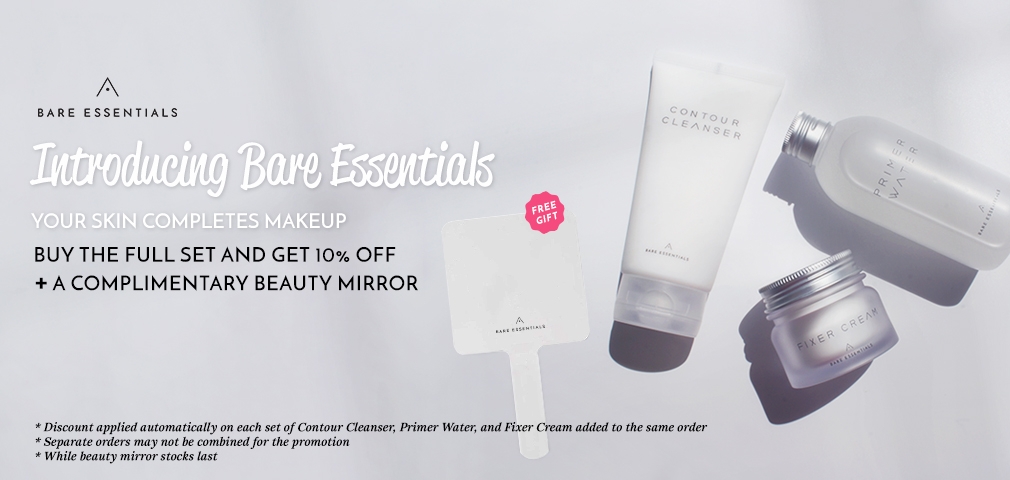 From https://my.althea.kr/bare-essentials
That's all for this post!
Check out my other blog posts that may be potentially helpful to you! 😀
Update 18/8/18: After 4 months, I've officially finished my moisturizer! I don't use it all the time and yet my skin is still moisturized thanks to the cleanser and primer. If I use it every day, it should take half the time than what I've used. I still have half the cleanser and toner!
Update 14/11/18: It's the 208th day (6 months and 25 days) and I found a spider in my cut-opened container of my cleanser. I was about to finish the remaining cleanser and I'm pretty sure it would last me for the next two months but unfortunately, I had to throw it away… I still have 1/5 of the toner left! I can conclude that these two items can really last a very, very long time.